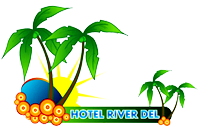 Shiv Temple - Kevadia Colony
A beautiful scenery of lakes is made by large water body between Narmada Dam and Main Canal Head regulator. A Jet fountain 45m height is available at Vadgam lake. Apart from that there is Baharfalia Lake, Panchmuli Lake and Khalvani Lake.Facility of boating is available in Panchmuli lake.
River View point offers a beautiful view point of Narmada river, flora and fauna in the vicinity adds to the beauty. Also, park/ garden is developed here by the government to facilitate tourism.
Happy to Help
Need any help?
Call us on 9909090568
Email us at:
info@hotelriverdel.in
Testimonial
Fruit salad is a dish consisting of various kinds of fruit, sometimes served in a liquid, either in their own juices or a syrup. When served as an appetizer or as a dessert, a fruit salad is sometimes known as a fruit cocktail or fruit cup. In different forms fruit salad can be served as an appetizer, a side-salad, or a dessert.